Configuration preview of Cookie Control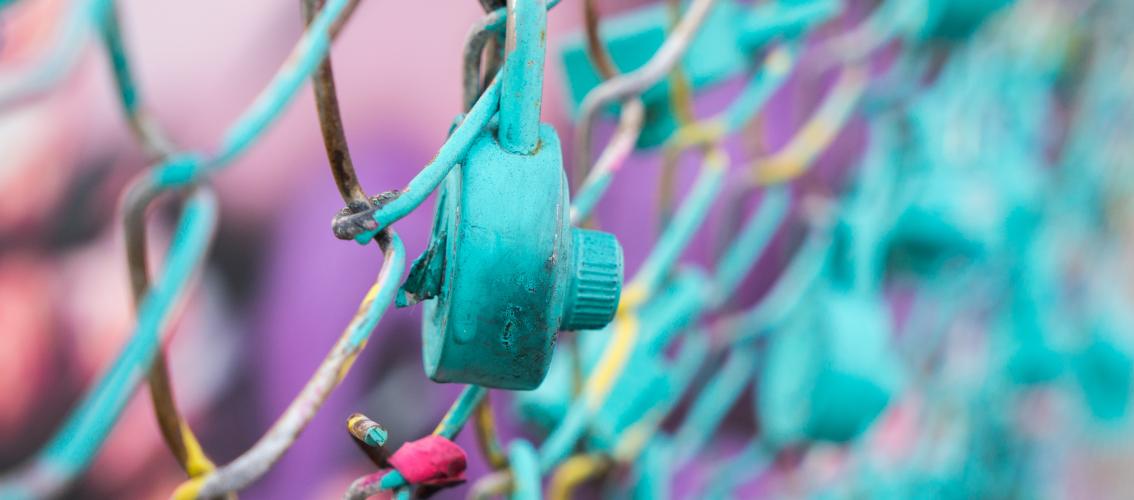 A few weeks ago, we released the visual configuration sandbox of Cookie Control: a tool that offers the functionality to visually configure many aspects of Cookie Control and preview your selections before deploying them on your website. We've also provided sensible default selections to help you out. Useful, right?
Here's how it works:
Login into your User Area, expand the Configuration preview and select one of your plans. Then, select the domain you wish to use the tool for and click on the 'Launch Configuration Sandbox' button.
The configuration sandbox will pop out. In the first step, you'll find the license details and the choice to use the IAB mode. You'll see that on the left, there are the visual configuration options, and on the right, there's the panel that shows the actual JSON configuration code. If you click on 'View Preview' you'll see the Cookie Control banner in action. When you're ready with your selections you need to click on the 'Save configuration' button and then copy the code, do the rest of your changes, and deploy it on your website.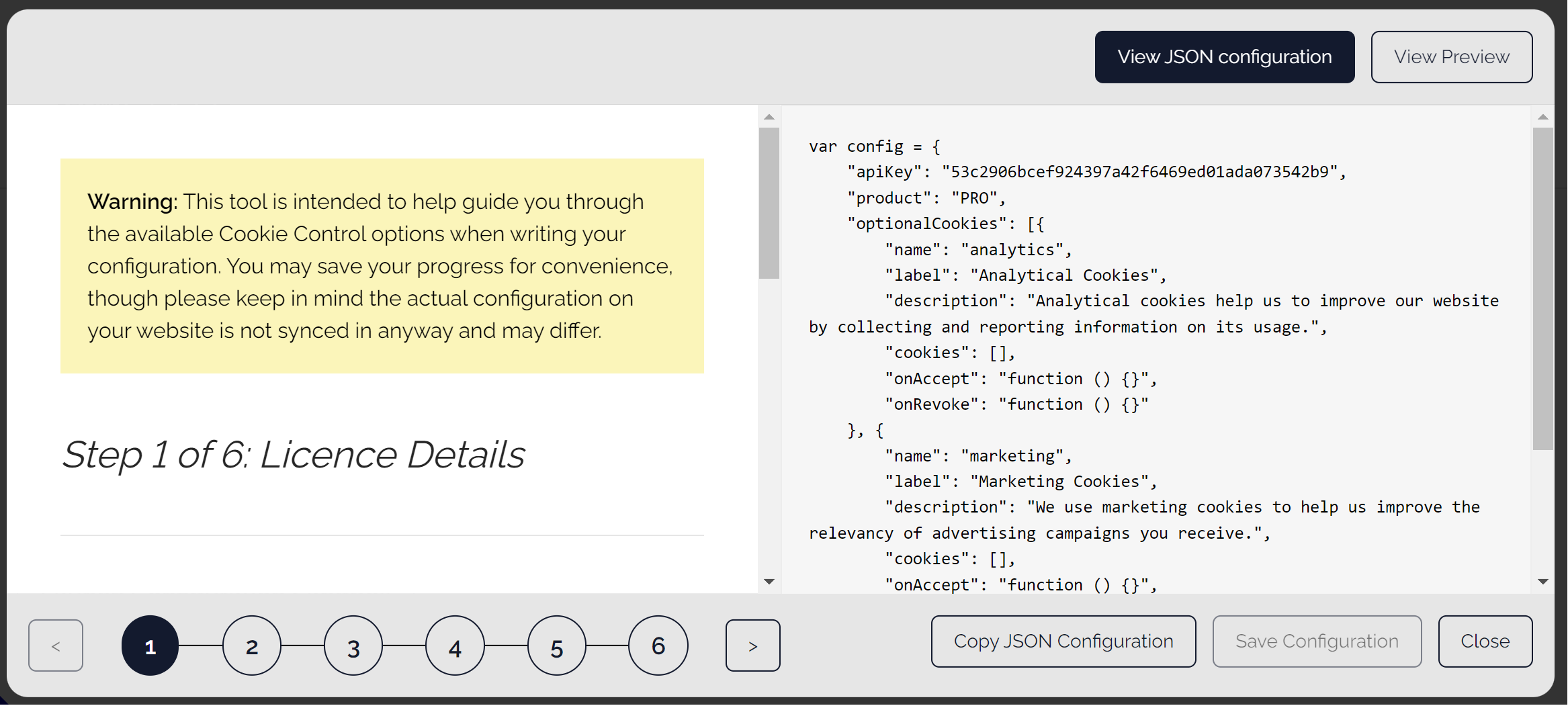 In step 2 you can configure the mode that you want Cookie Control to work on.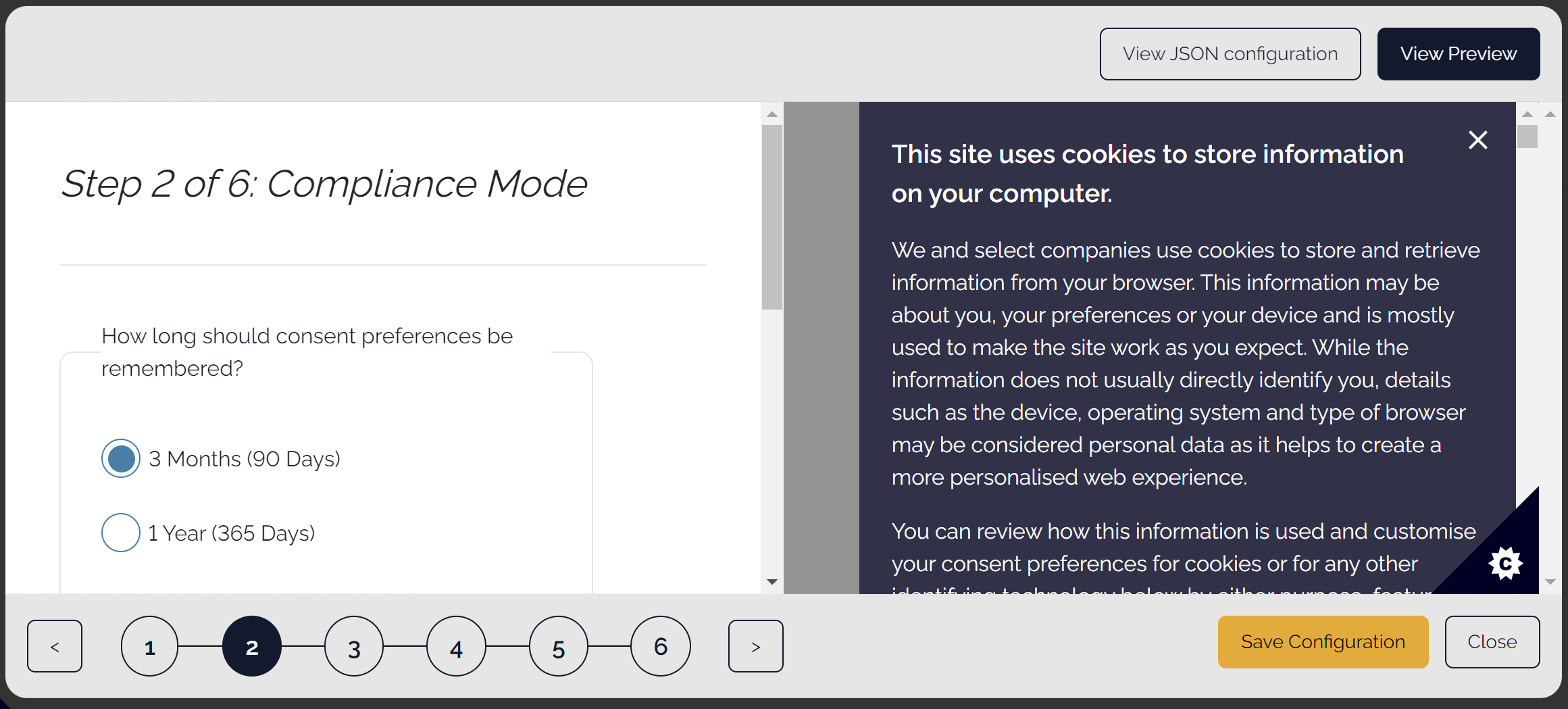 In step 3 you can configure the look and feel of the banner and change it to match your branding and your website's colours and fonts.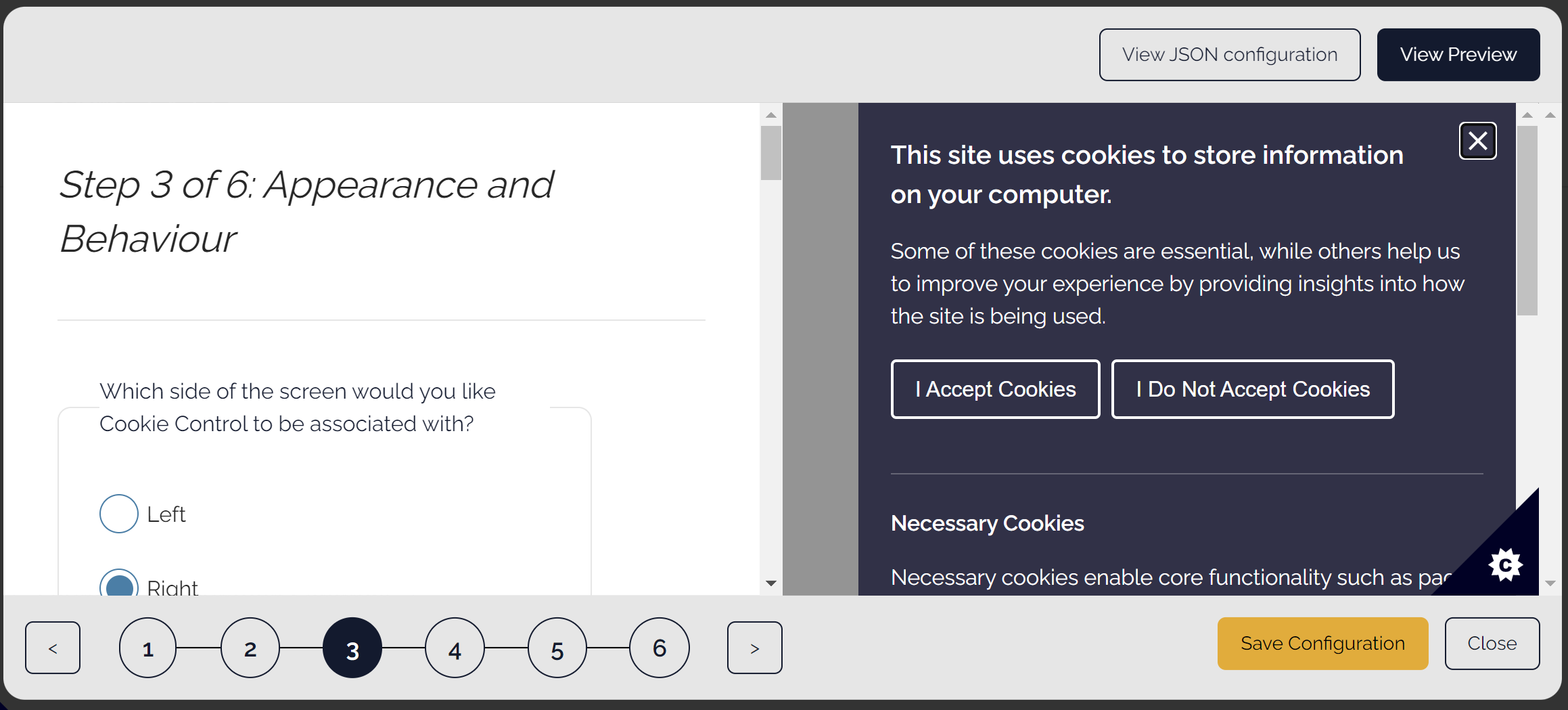 In step 4 it's now time to add the cookies dropped from your website. We've created some default cookie categories for you, including the Necessary Cookies one, and you can rename them, delete them, or add more if you like.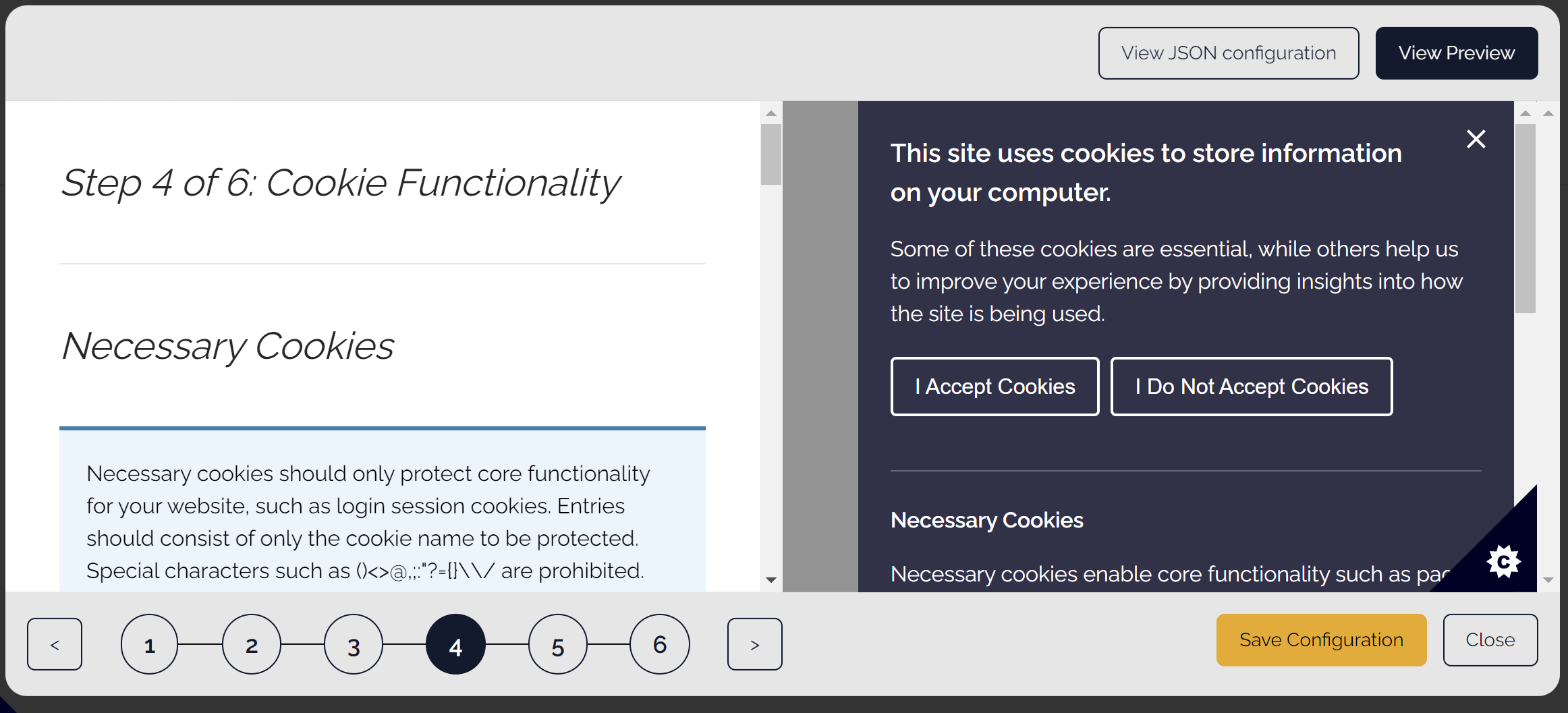 In step 5 you can check out and make a good start with the default banner texts we've put in for your convenience and also add any custom CSS you may want.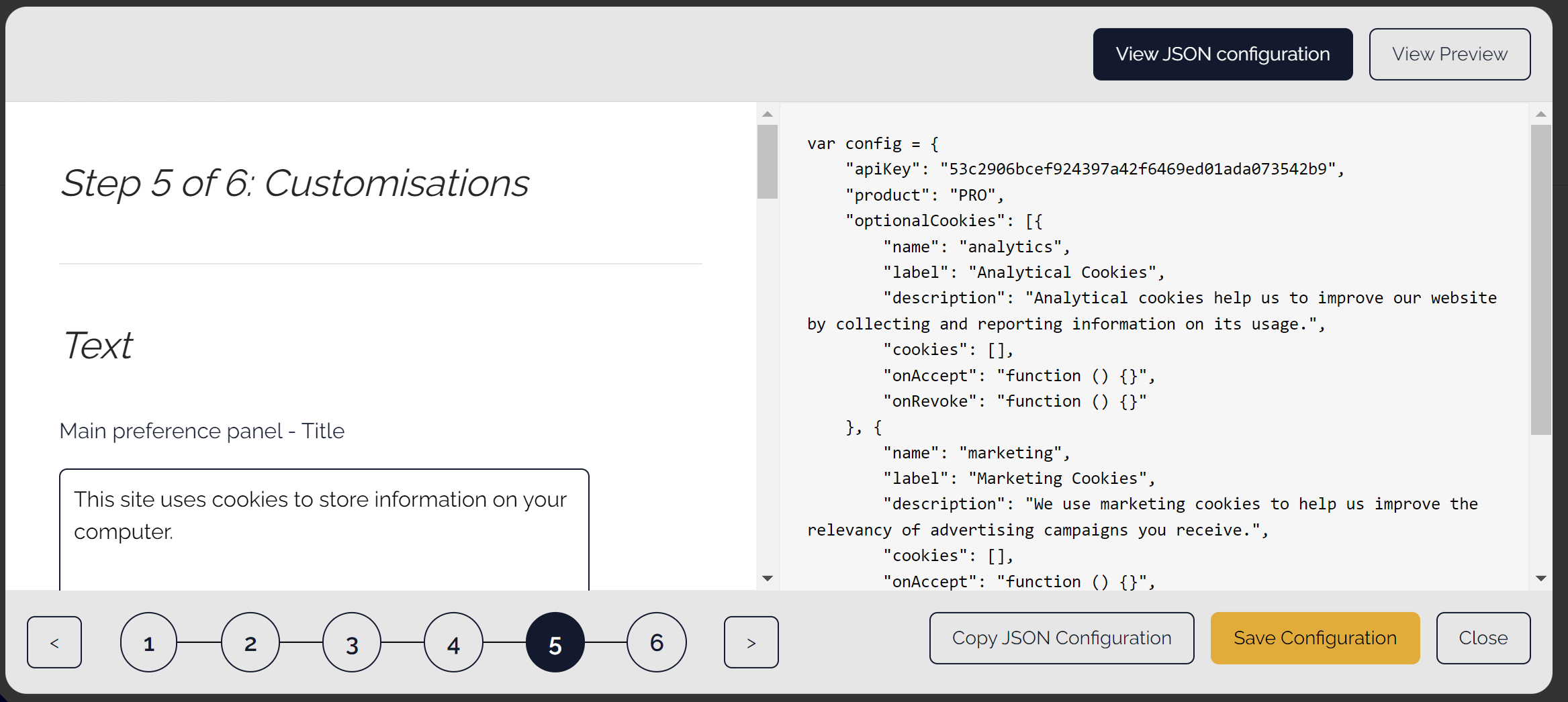 The last step of the wizard is the 6th one. In this step, there's instructions and links on what to do next. Once you're happy with the preview, you can copy the configuration code to the appropriate file on your website. You'll still likely need to fine-tune the actual configuration on your site, but we hope this'll have helped you get started with a basic outline.
If you require more advanced functionality, such as local-based translations, or how to add the onAccept and onRevoke functions to your optional Cookie categories, you'll need to do that manually after checking our documentation.
Please remember, this tool is only intended to help guide you through some of the available Cookie Control options when writing your configuration. The actual configuration on your website is not synced in any way and may differ.
What are you waiting for? Download Cookie Control v9.8 now!